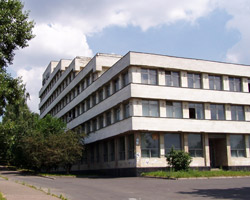 Корпус 20
Department of Electromechanics provides training for 4th highest level of accreditation of all three levels of university education, namely: Bachelor, Specialist and Master specialty "Electrical machines and apparatus". The department trains qualified scientists in partiular candidates and doctors.
The department has a unique laboratory equipment, which is one of the best on the faculty computer lab having the latest PC version with Internet access.
It was implemented an innovative learning technologies that focus on disclosure and effective use of student creativity, new ideas, hypotheses and projects.
A high level of training is provided by qualified academic teaching staff, which includes two doctors and eight Doctor of sciences.
In preparing future professionals the latest advances in electro mechanics, electrical engineering, materials science, semiconductor and microprocessor technology are used.
CHOOSING A SPECIALTY "ELECTRICAL MACHINERY AND APPARATUS"
YOU WILL LEARN:
Electrical engineering is an extraordinary science which largely determines the level of scientific & technological progress and human life. Its boundaries are continuously expanding and the content deepening by opening new physical principles and the use of new materials and technologies.
Almost all the electricity on Earth is produced by electric generators. Only through turbine generators at nearly 80% of all electricity.
Electrical machines are the main energy converter as in unconventional energy that uses natural energy sources i.e. wind, solar, ocean tides.
Electrical engineering studies not only electrical machines created by human, but also electromechanical transducers that exist in nature. The laws of electromechanics also form the basis of living organisms energy transformation.
In terms of electrical engineering the Earth is a natural electromechanical system that combines the magneto-fluid generator and motor unipolar of spherical type.
Electrical machinery and apparatus form the basis of energy and e-Mobility, having wide use in industry, modern technologies, including the latest – electrothermal, welding, EDMing, magnetic pulse, electroaerosol, radial, laser.
Electromechanical devices and systems are widely used in space technology, medical, scientific equipment and household appliances; also in control and automation, computers and robotics systems.
The department provides absolute students' involvement in research projects guaranting innovative effect.
By the Scientists of the Department of Electromechanics there have been published a number of scientific discoveries, the results of which found that electromechanical systems have their own genetic nature and principles of their creation and evolution is largely east of the laws of biological converters.
The Students take active part in the most recent basic research using the latest knowledge on the genetic and structural Electromechanics, systematics and bases using genetic and evolutionary algorithms in problems of innovative development of new varieties of power converters.
Only for the last 2 years and 10 students won scholarships of President of Ukraine and the Cabinet of Ministers of Ukraine, winners and awardees of nationwide competitions, contests NTUU "KPI" and the Department of Electromechanics, 20 students have published scientific articles, 19 students have prepared applications for inventions.
The department implemented an innovative learning technologies that focus on disclosure and effective use of student creativity and new ideas, hypotheses and projects.
According to the scientific forecasts the power in the twentieth century is expected to significantly increase production and consumption of electricity, which will produce and consume electrical machines
The defining feature of education in the specialty "Electrical machines and apparatus" is its solidity and full range use. This allows graduates to apply knowledge in many areas - for large and small enterprises of different ownership forms in academic and industrial institutions in universities, in the design, start - adjusting and maintenance organizations. The fundamental training and a thorough knowledge allow young professionals to adapt quickly to the changing needs of a modern market economy.
A high level of training provides academic teaching staff consisting 3 professors and doctors and 7 associate professors, PhDs.
Mode of study Full-time, Part time.

The department provides continuous training of specialists in the 4th highest level of accreditation following education levels:
Bachelor (training period - 3 years 10 months) training direction 6.050702 - Electromechanics;
Specialist (training period - 1 year 6 months) training direction 7.092206 - Electrical machines and apparatus;
Master (training period - 1 year 10 months), specialty 8.092206 - Electrical machinery and apparatus.
MORE INFORMATION AT
03056, m. Kyiv, ave. Peremohy 37 "KPI", Bldg. №20, k. 138. Tel .: (044) 454-95-18, 406-82-38